"Whenever you speak to the people of something their mind cannot comprehend, it could lead some of them towards fitna " Muslim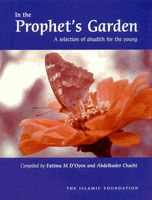 In The Prophet's Garden
Compiled By Fatima M D'Oyen and Abdelkader Chachi
Hardback 132 Pages Fully illustrated with colour pictures of flowers and pictures from nature.
Each hadith is in Arabic followed by a simple English translation
Published by The Islamic Foundation, Leicester UK
Beautifully produced and makes a lovely gift, Also Ideal For Daily Family Reading
A selection of ahadith for young and new Muslims. This selection of ahadith is taken from authentic collections and presented in simple modern English.
Arranged thematically in 29 short chapters to cover essential Islamic teachings on faith, religious practices, morals and manners and character and conduct.
Produced for young Muslims ten years and over, it also forms a suitable general introduction to the teachings of Muhammad(s) for non-Muslims and those new to Islam.
Inspirational ahadith awakens our faith and reminds us how to truly behave as Muslims by following the sayings of our beloved Prophet.
The Prophet (SAW) said 'The Religion of Islam is Easy. No one ever Made it difficult without it becoming too much for him. So avoid extremes and strike a balance, do best you can (in carrying out your religious observances) and be cheerful; and seek Allah's Help (through Prayer) in the Morning, Evening and Part of the night
(Bukhari) [From In The Prophet's Garden Compiled by D'Oyen and Chachi ]
---
Each Prayer has the Arabic text - translitiration - translation and followed by a short note
Click here to view 4 sample pages

What Should We Say?

A Selection of prayers for daily use

Although primarily intended for elementary students this book can also be used by older students, those new to Islam and those interested in making the remembrance of Allah a reality in their everyday lives. This helpful and practical guide presents some of the important daily prayers taught by the Prophet (S) in simple English with accompanying Arabic text, notes and pronunciation guide. An essential part of Islamic upbringing, these are the supplications most commonly used by Muslims worldwide to increase awareness and remembrance of Allah in daily life. Islamic Illustration:

An Example from the book:

What should we say when we break our fast?

<<Arabic text>>

Allahumma laka sumtu wa-bika amantu wa'ala rizqika aftartu faghfirli

'O Allah, I have fasted for you, I believe in You, and I am breaking my fast with what you have provided for me, so forgive me'

If we are fasting, it is sunnah to say this additional supplication before saying bismillah.

Muhammad, the Last Prophet:
A Model for all Times
by Sayyed Abul Hassan Ali Nadwi Paper Back 215 pages
Based on a Summary of as-Sirah Nabawiyyah by Ibn Hisham

A combination of lucid style and richness in content makes this book a source of inspiration and guidance for youth. Suitable for key stages 3 and 4. Excellent Print Quality.
Want a simple book on the Life of the Prophet Muhammad (SAW) then this is the one.
What sets this book apart from the many on the market place is its extensive coverage, modern illustrated maps of events, carefully worded questions for each chapter (workbook), transliteration table and a comprehensive glossary of Arabic terms used which also makes it suitable for classroom use as a textbook.




Stories of the Prophets
Portraits of 14 Prophets - Simply Told
by S Abul Hassan Ali Nadwi 179pages Paper Back
Ref: 41m Price:£5.25

A lively translation from the Arabic work, contains vivid portraits of fourteen prophets. Suitable for Key stage 3.

Forget the fantasy stories, the stories of the Prophets are ideal for Parents to read, understand and recount to children. FIRE, FLOOD, PARTING OF THE SEA, EARTHQUAKES, MIRACLES and . a lot more. The Children will Love it, and more importantly it is true and instills strong Islamic values in your kids.

For more detailed work check out:Stories of the Prophets by Ibn Kathir

Ref: 55m Price: £6.95

The Qur'an in Plain English
(Arabic-English) 30th Part Translation
Translated by : Iman Torres - Al Haneef
Pages: 236. Price: £6.95 ISBN: 0-86037-233-2
Ref: 56m Price: £6.95

Simplified Arabic with English.
The first book to simplify the meaning of the Qur'an for children, young people and adults. Supplemented with many explanatory notes and a glossary, it is also ideal as a textbook for schools and Madrasahs. Suitable for Key Stages 2 and above.

A Day with The Prophet
Author: Ahmad Von Denffer
Pages: 94 .Paperback
Price: £3.95

A selection from Hadith showing a typical day in the life of an extraordinary man. Revised edition with Arabic.
A short yet comprehensive guide on the Prophet's daily life. It invites Muslims and non-Muslims to acquaint themselves with the Prophet's Sunnah and inspires them to follow it with sincere devotion

Marvelous Stories From the Life of Muhammad
Mardijah Aldrich Tarintino
paperback 120 Pages
Price £3.95

A Collection of 18 stories from the memorable events in the Prophet's life, beautifully told. "These tales…are a delight to read, giving imaginative vitality to the bare facts so often related in other accounts of the Prophet's life.
Also See the following Pages for other Simply Told Books