Fiqh Ala al-Madhab al-Arba'ah By Shaykh AbdurRahman al-Jazairi (1299 - 1360 AH)
Dar al Arqam Lebanon
5 Hardback Volume Set
Tahqik by Ibrahim Muhammad Ramadhan
Please Note this Book is in Arabic Only
The Well Known Book Dealing with the Fiqh of the Four sunni Schools of Thought. The Hanafi, Maliki, Shafi'i and Hanbali Madhabs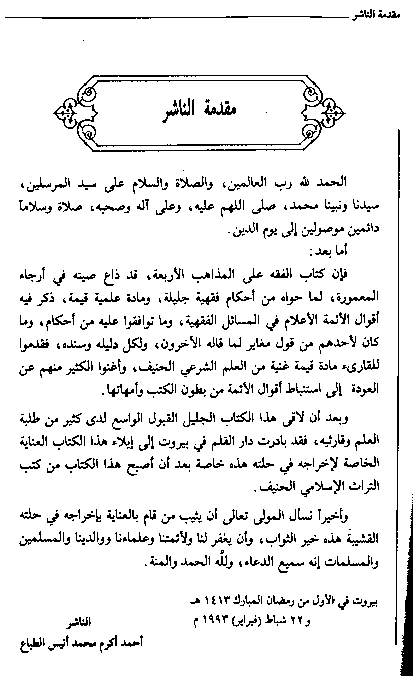 ---
Sharh al-Ajroomiyyah (The Explanation of al-Ajroomiyyah) - by Shaykh Ibn 'Uthaymeen.
It is an Arabic book
Hardback, 459 pages

'The Explanation of al-Ajroomeeyyah.' A comprehensive and simple elucidation, in a word by word manner of the meaning of the text of al-Ajroomeeyyah, a book written by Imaam Muhammad al-Sanhaji better known as Ibn Ajroom. It explains the basics of Arabic grammar in a clear and uncomplicated style. An essential book for all those progressing in mastering the Arabic language.


---
Al Hidaayah Awwalain (The Hedayah Part 1 (Arabic Only)
(Classic Manual of Hanafi Fiqh)
By Abu al Hasan Burhan al Din 'Ali b. Abi Bakr b. 'Abd al Jalal al-Farghani, al Marghinani
Part 1, With
Hadith Verification By Ibn hajar Asqalani
Commentary by Allama 'Abd al-Hayy al-Lukhnawi
Hard Back 624 Pages Portrait size (Large)
Published in Pakistan

Abu al Hasan Burhan al Din 'Ali b. Abi Bakr b. 'Abd al Jalal al-Farghani, al Marghinani, the great Hanafi jurist, was born at Marghian in the vicinity of Farghana in 530 A.H. (1135 A.H.). He died in 593 A.H. (1197 A.D.)
The Importance of this Book can not be exaggerated, it was and still is referred to in all Courts in Muslim India. It is also studied in most Hanafi based Dar-ul-Ulums and Islamic Universities.
Imported Book so the Outside could be Slightly Bruised and The Design of the Cover may not be exactly the Same as the Image

---
Detailing about 12,500 legal questions that span the entire spectrum of fiqh, this work is an authoritative reference, not only on matters of worship, but also on financial transactions, personal relations and penal and judicial matters.
Al-Mukhtasar al-Quduri is universally recognised as one of the mainstays of the Hanafi school, and forms the primary text of the renowned Hanafi work, al-Hidayah .Widely acclaimed for centuries, the Mukhtasar still forms part of the curriculum in traditional madrasahs world wide. The works to include along side the Quduri include the lubab, commentary on Quduri

Author: Imam Abu'l Hasan Ahmad ibn Muhammad al-Quduri (362/xxx – xxx/xxx)

---
Qiraat ar Rashida, Arabic original. (Hardback)
By Sayyed Abul Hasan Ali Nadwi
Price:£6.00
This is Part of a series developed by Shaykh Abul Hasan Ali Nadwi because the Arabic Books available for teaching students of advanced Arabic were mostly secular, and it was thought that it would be better to have these Books which would also teach certain Islamic Basics. They are in use in Many Darul-Ulums in India and Pakistan as well in Many Universities in Arab Countries
Qiraat ar Rashida, Arabic original, Deals with a variety of Islamic Issues such as Adab, Personalities etc (if you understand Arabic then you can enlarge the picture and Left click and Print try to read it.)
Sheikh Syed Abul Hasan 'Ali Nadwi, one of the most prolific writers and original thinkers of our time, author of well over fifty books in various languages, and a scholar of rare distinction, passed into the mercy of Allah in December 1999.
Maulana was a founder member of the Muslim World League (Rabita), a member of the Organisation of Islamic Conference (OIC), a member of the World Supreme Council of Mosques, and a member of the Fiqh Council of Rabita. He was also a member of Advisory Council of the Islamic University of Madinah al-Munawwarah, a member of its Supreme Council, and a member of the Academy of Arts and Letters of Damascus, Syria. He was also a founder member of the League of the Islamic Literature in India.
Perhaps better known as the founder member and first rector of Nadwatul Ulama (India), and president of the Academy of Islamic Research and Publications.
---
Tahdhib al Akhlaq (Arabic Original)
A Hadith Guide for Personal and Social Conduct.
By Sayyed Abdul-Hayy al Hasani (1286 -1342 AH /1861-1923 CE)
Hardback 223 Pages
Published by UK Islamic Academy
A Series of Simple Arabic Books for Students of Arabic
This is the Arabic Original to accompany the English Translation Tahdhib al-Akhlaq: A Hadith Guide for Personal and Social Conduct.
Anyone new to the science of hadith may be overawed by its sheer volume and complexity. Tahdhib al-Akhlaq: , is a gentle introduction that takes over 500 Ahadith from the six authentic collections predominantly from Bukhari and Muslim and arranges them into an easily understood and accessible subject matter. It covers over 45 short chapters such as sincerity in worship, maintaining ties of kinship, teaching children, thankfulness, modesty etc. It focuses on morality, manners and in this way it serves both as an excellent foundation not only for further study of the great works of hadith, but also as a guide to the Islamic way of life thus reviving the importance of Islamic moral conduct in the English Language.
Its unique style of inter-twining each subject matter with the appropriate verses of the Qur'an at the beginning of each chapter followed by carefully selected hadiths makes it fascinating to read, - a truly scholarly work made accessible to the general reader.
The Author Sayyed Abdul-Hayy al Hasani an-Nadwi (1286 -1342 AH /1861-1923 CE)
was one of the most prominent scholars of his time, he was Rector of Darul 'Uloom Nadwatul- 'Ulema Lucknow, he authored many books both in Urdu and Arabic
This Book is in Arabic Only
This is Part of a series developed by Shaykh Abul Hasan Ali Nadwi because the Arabic Books available for teaching students of advanced Arabic were mostly secular, and it was thought that it would be better to have these Books which would also teach certain Islamic Basics. They are in use in Many Darul-Ulums in India and Pakistan as well in Many Universities in Arab Countries
---
Kisass An nabiyin (Arabic Original of Stories of the Prophets)
Portraits of 14 Prophets - Simply Told
by S Abul Hassan Ali Nadwi
HARDBACK 360 Pages
Published by the UK Islamic Academy

The Arabic Original of the English translation of Stories of the Prophets by S Abul Hassan Ali Nadwi 179 pages Paper Back

An all time children's favourite, this book contains vivid portraits of fourteen major Prophets mentioned in the Qur'an. It provides insight into their struggle to serve the true God and guide their communities from going astray.
A lively Arabic original with carefully worded questions for each chapter (workbook), transliteration table and a comprehensive glossary of Arabic terms which also makes it suitable for classroom use as a textbook.

This is Part of a series developed by Shaykh Abul Hasan Ali Nadwi because the Arabic Books available for teaching students of advanced Arabic were mostly secular, and it was thought that it would be better to have these Books which would also teach certain Islamic Basics. They are in use in Many Darul-Ulums in India and Pakistan as well in Many Universities in Arab Countries